Landi 1939 Volume 1–4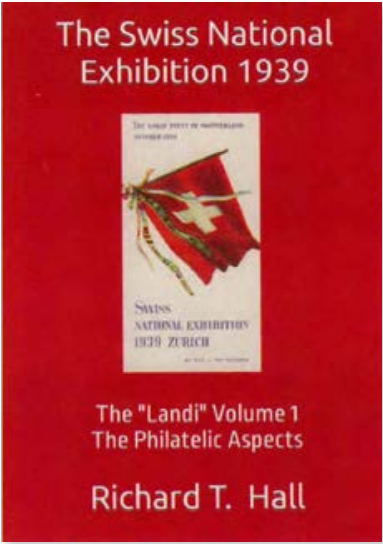 In Volume 1, the author explores all the philatelic aspects related to the exhibition, serving as a guide to both collectors and postal historians.
It presents the promotion, the use of cancellations and the stamps in the three main Swiss languages. Opening chapters present the advance promotion of the exhibition through the use of machine slogan cancellations, postal meter slogan and two series of stamps with legends in the three main Swiss languages (German, French and Italian). A table of cancellation usage periods and printing data are accompanied by stamp uses and detailed illustrations of a selection of printing flaws. Further it includes airmail - promotional flights, a squadron of Swiss Air Force Fokker CVE aircraft as well as Swiss balloonist Fred Dolder who were part of the ceremonies. There is a description of the postal services provided. Detailed production data, a guide to distinguishing stamp types, printing varieties and postal history examples are shown and explained. Illustrated postal cards and lettersheets are given extensive coverage, with reproductions of the various illustrations, technical printing notes and interesting usage examples. As a final bonus, the book includes a 16-page translation of Remi Kohler's fully illustrated study of printing flaws on the Crossbow and Blooming Branch stamps issued on opening day. Documentary photographs, maps, tables and illustrations of covers are shown. Additional volumes exploring Planning and Construction (Vol. 2), Events and Activities (Vol. 3), Tours of the Pavilions on the Left Bank (Vol. 4) and Right Bank (Vol. 5) are in preparation. Reflecting the comprehensive philatelic treatment in Volume 1, these promise to complete a landmark review of one of Switzerland's greatest social events of the mid-20th century. A detailled review is uploaded on: www.briefmarkenzeitung.ch.
The Swiss National Exhibition 1939 - The «Landi» Volume 1 - The Philatelic Aspects, hardcover, ISBN 979-8362203825, 129 8¼- by 11-inch pages, Exhibitors Press, 2022, $45, available from Amazon. Bruce Marsden